ThinkHub Cloud is a digital workspace that facilitates virtual collaboration. Create and share canvases anytime, anywhere, from the comfort of your own laptop.
With ThinkHub Cloud, you can create ThinkHub Canvases right in the T1V app.
Note: ThinkHub Cloud is currently available for laptops and desktops. Cloud for mobile devices (smartphones, tablets) will be coming soon.
Watch the overview video:
Once you've created a ThinkHub Cloud Canvas, you can:
Invite Collaborators to join you for synchronous OR asynchronous collaboration sessions
Add Content - file based (images, videos, PDFs) and web-based (Google Drive, O365, YouTube, and more…)
Host Instant Meetings with your choice of video conferencing (baked right into the Canvas experience)
Send your Cloud Canvas to the ThinkHub Room (also known as 'Send To Room'). Please Note: this feature requires a room upgrade to ThinkHub 5.0, and there are certain features this will not work with. Please work with your Customer Success Manager to see how this impacts your ThinkHub environment.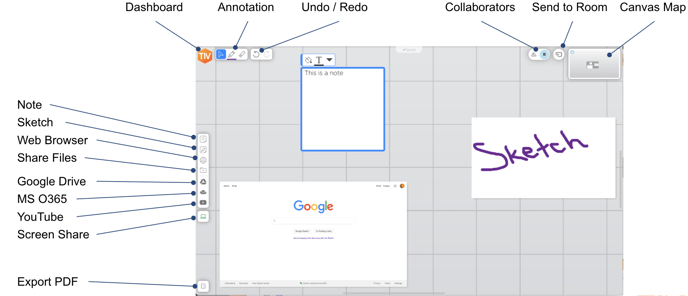 Watch the full tutorial video: