There are several ways to organize content on your ThinkHub Canvas.
Align Apps and Smart Guides
Use this tool to align the content on the ThinkHub Canvas. You can align all items 'In View' (what's currently displayed on the physical display), or the 'Entire Canvas.' This feature will quickly snap all items to the grid.
Use the ThinkHub Smart Guides™ tool to enhance the alignment capabilities within ThinkHub. Smart Guides provide visual cues to indicate size, height, and spacing alignment of apps on the Canvas.
Smart Grids
Use SmartGrids to create Canvas layouts to view and present content in optimal sizing and alignment. Once the content is dragged into the SmartGrid drop zone, the content will expand to the max size of the grid. SmartGrids is part of the ThinkHub alignment tool set, designed to aid users in better organizing and visualizing content on the ThinkHub Canvas. Plus, it makes for a powerful presentation tool when utilizing ThinkHub or any variation of ThinkHub, like ThinkHub xCanvas, to present highly visual content to teams.
You can also organize content on your Canvas by using our group app.
With ThinkHub Groups, you can create groups and add individual content assets to those groups. Groups can contain notes, sketches, images, videos, PDFs, or any other content asset shared to the Canvas. Once a group is created, you have the ability to assign a theme (background and text color), and control the way the group content is displayed (spacing between assets, alignment, and more…). ThinkHub Groups are an effective way to manage and organize Canvas content, and help participants to visualize and categorize content in large team planning and brainstorming sessions.
To learn more about Groups, check out this article on grouping content with ThinkHub Groups.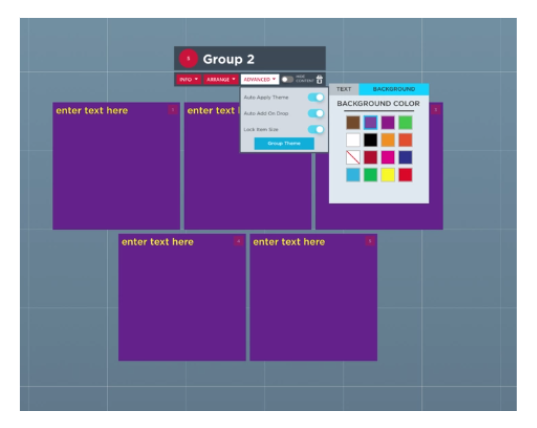 Pin Content
Alternatively to using the above methods, you can pin content to your ThinkHub Canvas using the built in 'pin' tool located in the Content Tray. This will lock your content to that position on the Canvas until it is unpinned (which can be done by selecting the pin tool once more).