You can share your laptop and/or mobile device screen to ThinkHub via the T1V app. Here's how:
This article is for T1V app 5.4. For older versions, see the bottom of this page.
To share your screen to a ThinkHub Room device, you'll need to use the T1V app, which is available for download here or on your mobile store (App Store or Google Play).
Share your laptop screen:
Download the T1V app. Select the version for your device and follow the instructions for installation.
Once T1V is installed, open the T1V app.
Select 'Room'.

Locate the Room ID. This is the 8 letter ID located in the upper right corner of your ThinkHub. If you are not in the room with the ThinkHub you are connecting to, ask the meeting host for this information

Enter the Room ID and passcode in your T1V app.

In the upper right corner of your T1V app, Select 'Share'.

7. Select the Screen or Window you want to share and select "Share"
A pop-up will appear indicating that you are sharing your screen.
Note: When sharing your device screen (entire desktop view) while you are viewing the Canvas, T1V app will automatically pause your device feed to prevent the repeating "window within a window" effect. When you click off of the T1V app and interact with other applications on your device, the share feed will automatically resume the real-time device screen feed. You always have the option to manually pause / unpause your device screen share with the share menu.
If you'd like to connect to a ThinkHub Room and start screen-sharing simultaneously, you can select 'Share Screen' from your T1V dashboard. Once you enter your Room ID and passcode, this will connect you to your ThinkHub Room and start casting your screen.
Share your mobile device screen:
1. Once the T1V app is open, select "Room Code".
2. You will then be prompted to input the Room ID and a four digit Passcode located in the top right corner of the ThinkHub Canvas to connect to the ThinkHub. These credentials can be found in the top right corner of your ThinkHub. (Note: If you have reserved a ThinkHub in a scheduled meeting with calendar integration , you will be emailed these credentials prior to the meeting.)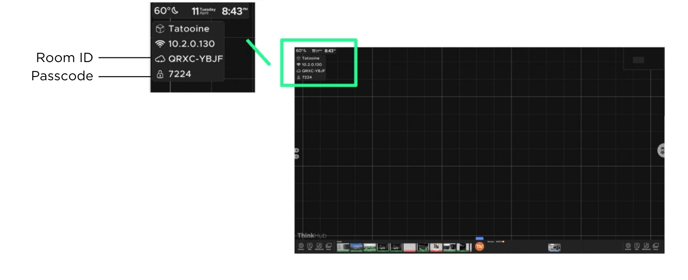 3. Once you are connected to your ThinkHub, select 'Cast My Screen' to start screensharing.
Check out this article on how to view, control, and participate on ThinkHub from your mobile device.
Archived versions of this article: