Start Collaborating with ThinkHub Cloud. Contact T1V for access, then follow these instructions to get started:
1. Contact T1V and request ThinkHub Cloud
2. Download the T1V app on your laptop or desktop. Note: ThinkHub Cloud is not yet supported on mobile devices.
3. Register your T1V app with your email address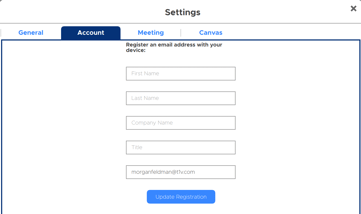 4. Verify your Email
Once you've registered, you will receive a verification email to the email address you entered. This email will be from T1V (T1V@t1vserver.com) and include the following message:
Select 'Complete T1V App Registration'.
5. Restart your T1V app
Note: it could take up to 24 hours from registration for T1V to enable access
Want to learn more about ThinkHub Cloud? Check out this article on What is ThinkHub Cloud?