Start Collaborating with ThinkHub Cloud. Register your T1V app to get started!
1. Download the T1V app on your laptop or desktop. Note: ThinkHub Cloud is not yet supported on mobile devices.
2. Register your T1V app with your email address. Select 'Register' from your T1V Dashboard or select the gear icon in the upper right corner of your T1V app to access Settings and navigate to the 'Account' tab.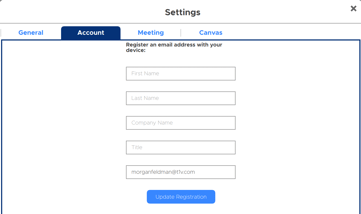 3. Verify your Email
Once you've registered, you will receive a verification email to the email address you entered. This email will be from T1V (T1V@t1vserver.com) and include the following message:
Select 'Complete T1V App Registration'.
4. Restart your T1V app
Note: This gives you access to the ThinkHub Cloud: free plan (up to 3 Canvases). To upgrade to Pro or Enterprise, contact T1V.
Want to learn more about ThinkHub Cloud? Check out this article on What is ThinkHub Cloud?